Sciatica

Chiropractors in Jupiter, Palm Beach Gardens, and Port St. Lucie Discuss Sciatic Pain
Are you experiencing a sharp pain that starts in your buttock and shoots down one leg? You might have sciatic pain. The pain from the sciatic nerve can be severe enough to wake you up at night, and debilitating enough to prevent you from going to work or engaging in your favorite activities. Fortunately, our chiropractors in Jupiter, Palm Beach Gardens, and Port St. Lucie can provide safe, effective, drug-free treatment for sciatic pain.
About Sciatic Pain
Sciatic pain usually shoots from your buttocks down one leg. Sciatic pain may also involve tingling, numbness, or weakness in that area.
The pain is caused by the sciatic nerve. This nerve splits off from the spinal cord in your lower back and runs down the back of each leg to your feet.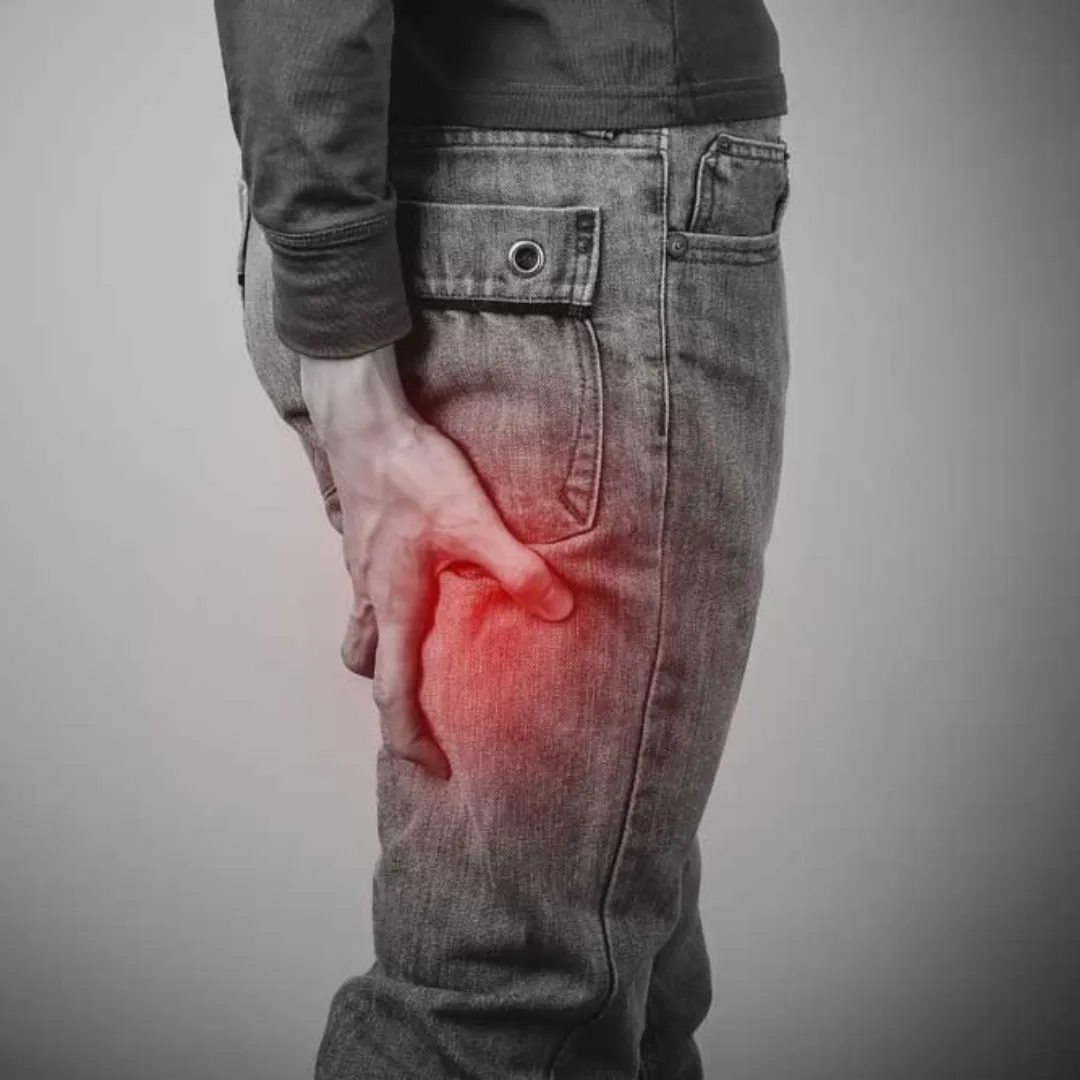 Nerves transmit messages between the brain and the rest of the body. The sciatic nerve transmits messages between your brain and your legs and feet. The sciatic nerve is the largest nerve in your body, so the nerve is capable of sending a strong message of pain to your brain.
Sciatic pain is not a condition. Rather, it is a symptom of an underlying condition that affects the bones of the spine, known as vertebrae, or the rubbery discs between each vertebra that prevent the bones of the spine from grinding against one another as you move.
A number of lower back conditions can potentially cause sciatic pain. These lower back problems include:
Lumbar herniated disc – when a tear in a disc allows its gooey contents to ooze out and press against the sciatic nerve
Degenerative disc disease – when the discs deteriorate over time
Spondylolisthesis – which occurs when one vertebra slides forward over the bone below it
Spinal stenosis – when the spinal column narrows to pinch the sciatic nerve
Piriformis syndrome – when chronically tight piriformis muscle presses against the sciatic nerve
Treatment for Sciatic Pain from Our Family Chiropractors
Treatment depends largely on the underlying cause of sciatic nerve pain. Chiropractic adjustments realign your spine and reduce pressure associated with misaligned vertebrae or spondylolisthesis. Spinal decompression alleviates pressure on the discs to bring pain relief from sciatic pain caused by lumbar herniated discs or degenerative disc disease. Massage therapy can melt tight piriformis muscles. Corrective exercises can help alleviate and prevent symptoms of sciatic pain from coming back.
Papa Chiropractic & Physical Therapy is your chiropractor in Florida. Our chiropractors, Dr. Michael Papa and Dr. Colon, have served patients in Port St Lucie for more than 25 years. Every member of our family chiropractic clinic focuses on providing exceptional care for our patients by staying current on the latest chiropractic techniques and tools available. We serve patients living in or near Jupiter, Palm Beach Gardens, and Port St. Lucie. Make your appointment to see our chiropractor in Jupiter FL, Palm Beach Gardens FL, or Port St. Lucie FL by calling (561) 744-7373.